THE COST OF LIVING AND OTHER FACTS ABOUT LIVING IN PORTLAND, OREGON
Posted by Brian Getman on Thursday, March 4, 2021 at 7:30 AM
By Brian Getman / March 4, 2021
Comment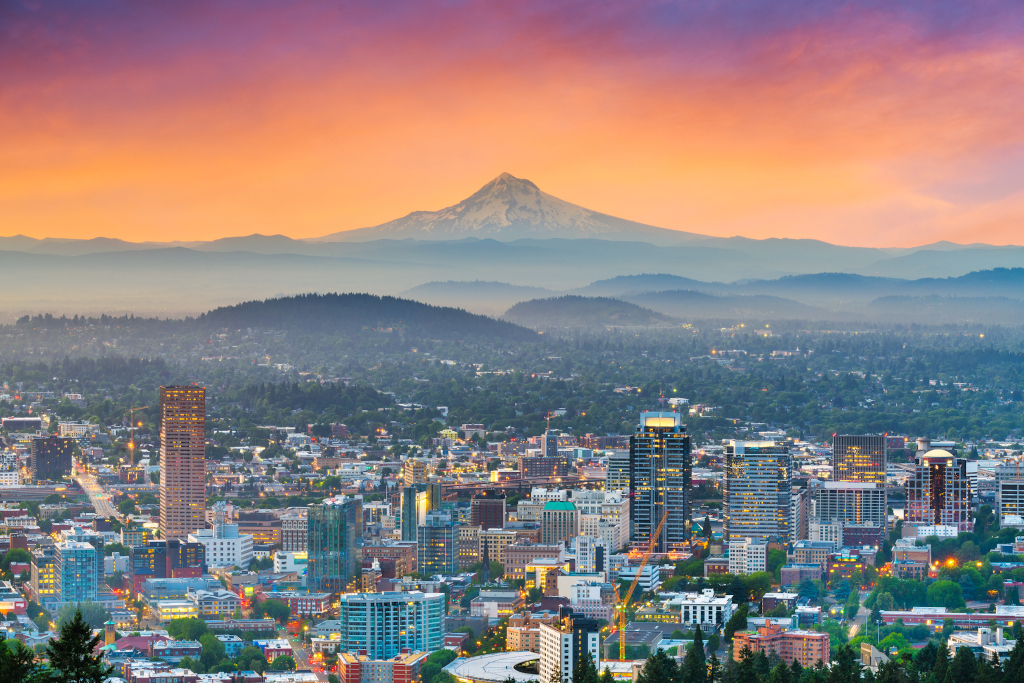 Nestled right between the Willamette and Columbia rivers, Portland is Oregon's largest city, with a population of over 650,000 residents. Known for its award-winning microbreweries and urban wineries, breathtaking hiking trails, and eco-friendly attitude, Portland offers a very laidback vibe enhanced by a scenic landscape featuring fertile vineyards, rolling hills, serene rivers, and majestic mountain ranges.
Thinking about living in Portland, Oregon? You've come to the right place. In this section, we give you some helpful information on Portland, Oregon cost of living and other things you need to know.
Taxes

The state of Oregon does not have sales taxes. This makes living in Portland more affordable compared to its northwestern neighbor Seattle, which currently has a sales tax rate of 10.1%.
However, Oregon has relatively high income taxes, with rates ranging from 5% to 9.9%, with the higher rate applying only to those who earn $125,000 and above in taxable income. Additionally, capital gains are taxed at state income rate, which means investors in Oregon pay more tax whenever their investments perform well.
Real estate

According to a recent report from NeighborhoodScout.com, more than half of Portland's real estate market consists of homes priced from around $390,000 to $980,000. But even with high home prices, most residents in Portland own a home. According to recent data from DataUSA.io, the city's homeownership rate is 52.7%.
From 2000 to 2018, Portland's real estate market has appreciated by as much as 158%, making it one of only a handful of U.S. cities that have shown h3 appreciation rates since the start of the new millennium.
Rental prices

According to Zillow.com, Portland's median rent price is $1,975. In general, rental properties in Portland cost just as much as the traditional home buying market, with studio and 1 to 3-bedroom apartments holding median rents slightly above national values.
One advantage of renting in Portland is it's definitely more affordable compared to renting in other cities in the West Coast such as Los Angeles, San Francisco, and Seattle.
Transportation

Many Portland residents walk, bike, and take public transportation to get around the city. According to a report from the City of Portland in 2019, there are over 385 miles of biking paths throughout the entire city.
At 7.2%, Portland is home to one of the highest percentages of bicycle commuters of any major city in the U.S. Other areas of the country only have an average of 0.5% of bicycle commuters.
For those who prefer taking public transportation, Portland's TriMet system offers monthly passes for $100, which gives you access to TriMet buses, MAX Light Rail, WES Commuter Rail, C-TRAN Local and Regional, and the Portland Streetcar. This is equivalent to monthly passes in other cities such as Chicago and Los Angeles, and is slightly cheaper than New York's monthly MetroCard, which costs $116.50.
For seniors, the TriMet transportation system offers special "Honored Citizen" passes, which costs just $28 a month. This option is also available for low-income riders, Medicare beneficiaries, and individuals with mental or physical disabilities.
If you want to get around primarily by driving, gas prices are considerably higher in Portland. According to AAA Gas Prices, the average price of a gallon of gas in Oregon is $2.38, which is higher by 41 cents than the current national average price of $1.97.
Utility costs

According to Numbeo.com, new residents of Portland should prepare to spend about $173 monthly for basic utilities such as electricity, water, heating/cooling, and garbage disposal, higher than the national monthly average of $159.
Food

The average monthly cost of groceries in Portland is $103.7, just slightly higher than the national monthly average of $100.
If you enjoy dining out regularly, the average cost of a three-course meal for two in a mid-range restaurant in Portland is $59 according to Numbeo.com
The weather in Portland

If you're originally from an area that enjoys plenty of sunny days every year, the move to Portland may be a bit jarring, as the City of Roses experiences a lot of rainfall.
The Northwest is also known for misty conditions that can last an entire day, and even without precipitation, the skies are typically overcast for most of the year.
Here's a quick glimpse of what the four seasons in Portland are usually like:
Winter – Winters in Portland are rainy, cold, and overcast, but not as cold compared to the Northeast. U.S. The city gets only a couple of days of snow every year, sometimes none at all. Some neighborhoods located east of Portland have colder temperatures during the winter, as that part is exposed to frigid air blowing from Eastern Washington and Oregon.
Spring – Plants and flowers start budding in Portland in late February, as the spring season slowly starts unfolding. By May, the entire city is vibrant with trees, bushes, and flowers in full-bloom. Portland isn't known as the "City of Roses" for nothing – you'll see roses everywhere in Portland during spring.
Summer – July marks the start of the summer season, a seamless transition from spring with plants remaining in full bloom, along with leafy trees and lush greenery everywhere. There's more daylight hours during the summer as well. Summers in Portland are mild compared to other parts of the country, although the temperatures sometimes reach the 90s.
Fall – The early days of fall typically feel like an extension of summer, but the temperature starts to cool as the days go by. There are days when it can be windy and rainy, but other days are blessed with warm sunshine and crisp air, perfect for enjoying time outdoors. Families with kids will need jackets when they're trick or treating in the Halloween, as the evenings are already quite chilly during this time of the year.

Want to know more about living in Portland, Oregon? Get in touch with us at PDX Property today for the best selection of homes for sale in Portland, Oregon. You can reach us at 503.628.9665, or send an email to [email protected]